Presentation of the Association
The Association of the Friends of the Abbey of Villelongue was created in 1985 and now has 200 members. Its aims are :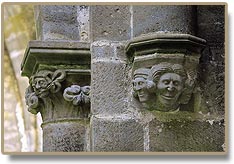 to actively participate in the promotion of the Abbey as a tourist destination by organising visits, cultural and artistic events, concerts and exhibitions, as well as evening visits
to contribute to the preservation of the fabric of the monument and the indispensible restoration work to ensure the abbey's survival.
Prizes awarded to the association
1998 - the PRIX DUMOUSSET of ancient French Houses for the restoration of the monument
2000 - the PRIX ARCHITECTURE ET MUSIQUE for the hosting events in historic homes

Permanent benefits for members of the association
a yearly newsletter
free entry to the abbey
invitations to exhibitions
reduced entrance for concerts

Membership
Despite financial help from a variety of institutions we need your support in order to bring to fruition the restoration of the abbey.
If you wish to become a member of L' Association des Amis de l'Abbaye de Villelongue, please complete the membership form below and send it, together with your membership fee, to the address indicated.
Membership : from 20 euros €
Joint membership : from 30 €

Download the membership form