News from the Abbey
Les Cabarets sur l'herbe
Fri, 18 August 2017
Déambulation chorégraphique, littéraire et musicale à 18 h30
Variations dansées sur le tissu et les robes, des lectures sur les révélations du lavoir, des phrases secrètes de l'étendoir, les joies simples des cours de couture de notre enfance.
Il n'y a pas de papier sans chiffon et une etymologie commune lie texte et textile..... Pas étonnant donc que le linge soit aussi écriture, récit.... Alors brodons sur le thème et remontons le fil du temps jusqu'au cours de couture de notre enfance, tricotons textes et chansons pour dire les cœurs épinglés, les amours raccommodées, rapporter les phrases secrètes de l'étendoir, les rumeurs du lavoir.
Avec les comédiens : Claire de Beaumont et Roland Gigoi, la chanteuse Mélanie de Maria, l'accordéoniste Anne-Laure Carette, la Cie chorégraphique l'Une et l'Autre.
participation aux frais : 5€
Sun, 20 August 2017
Concert à 18 h   :   Natacha TRIADOU : violon
Un voyage musical commenté au programme varié et très virtuose pour découvrir les secrets du violon.
Il s'agit d'un programme exceptionnel, pour tout public, un voyage musical du 17ème au 19ème siècle (œuvres de Bach, Biber, Locatelli, Albéniz, Saint Lubin, Paganini) qui permet de découvrir les secrets du violon à travers ses multiples facettes techniques et sonores. Le concert est agrémenté d'anecdotes et d'explications sur les possibilités de l'instrument.         
Entrée 18€, 15€ pour les membres de l'association
Association des amis de l'abbaye de villelongue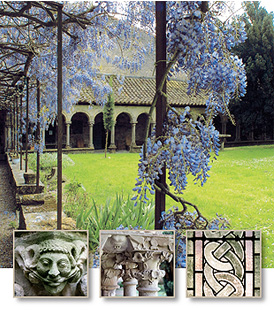 'The soul of Villelongue, once a place of prayers and contemplation, abandoned by man and marked by the ravages of time, has been rekindled step by step.
Isolated at the end of the 'Vallé longue, by the side of a river and hidden by ancient trees, the Cistercian Abbey of Villelongue rises. It is a collection of buildings of the 12th century of the greatest historic and architectural interest.
We hope that visitors or guests for one short night may take away with them a little of this Cistercian dream.'
The Cistercian Abbey of Villelongue is situated at 20 km from the Cité of Carcassonne and at 10 km from the Canal du Midi, both major UNESCO World Heritage Sites of the department of the Aude. The book village of Montolieu (a small version of Haye-on-Wye) lies at 6 km from the Abbey.
The Abbey of Villelongue is a member of the following: