A bed and breakfast in an ancient Cistern monastery near Carcassonne…
The Abbey of Villelongue is located 25 km outside of Carcassonne, between Montolieu the "village of books" and our own village of St Martin le Vieil. Since 1992 we have offered four charming guest rooms, which at one time were part of the dormitory of the Cistern monks.
Here we take pride in our 'back to basics' approach, which is evident in the simplicity of our facilities here at Villelongue: to maintain the tranquility of the abbey, none of our rooms have televisions or internet, and we offer no modern distractions in the likes of a spa, sauna, or swimming pool.
But if you're looking to escape the chaos of the modern world, come and spend some quality time away from it all, in one of the most romantic spots on earth, filled with history and spirituality. See for yourself, by relaxing in our charming garden: listen to the birds and the ancient stones, dip your feet in the babbling brook, and if you listen very carefully you can even hear our world-famous gourds growing up on their quaint blue chairs.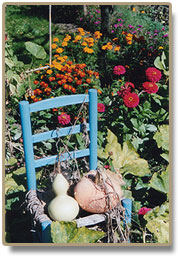 " There is no ostentatious luxury, just an immense charm that fills each room. The delicately bleached wall papers and hand-painted friezes form the backdrop to the lovingly chosen antique furniture from the region. Come summer, under the cherry trees, or between the water basin and the ancient abbey church, you can lounge in a selection of chaise-longues or old wrought iron cots, thick in comfortable cushions Here an afternoon siesta can be taken in almost biblical calm; only birdsong intermingles with the sound of water. In August, when the gourds are beginning to ripen, Jean Eloffe installs his hand-painted blue chairs to provide a safe platform to protect his precious harvest, a picture reminiscent of land-art."
Sylvie Tonnaire – Terres de vins